EasySecure.cloud - How to add a DOM Mobile Key
In this video we will show you how to add a DOM Mobile Key. The DOM Mobile Key is available for iPhone and Android and is compatible with all recent DOM Eniq products.

Users need to download the DOM Key app from the app store to use the mobile keys. By default the DOM Key app uses the mobile phone number of the users.


Go to the user edit screen and open the user that you want to create a DOM mobile key. More information about adding and editing users can be found in the following article.

Click on the 'Mobile Key' icon under the section 'My Credentials'.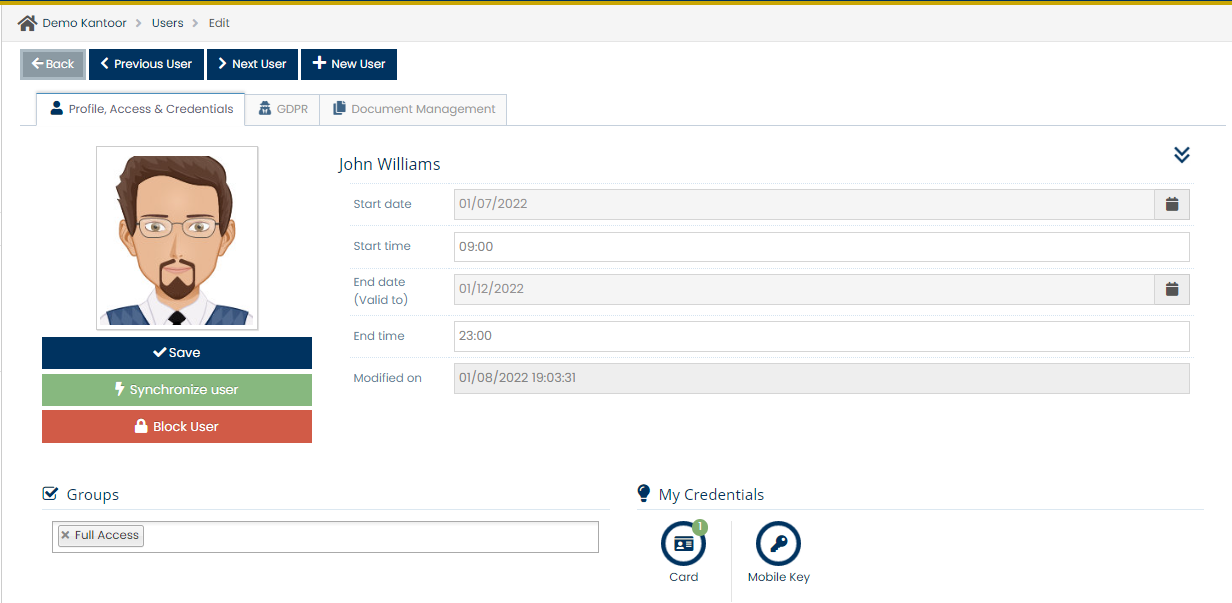 A new windows will appear:


Click 'Enter User ID' to create a mobile card.

Enter the phone number of the user. Please make sure to register the phone number in the correct format! Otherwise the card will not work.

Register the phone number with the country code follow by the phone number. User the + sign for the country code. For example: +316123456789.

Click Save and Close the window.

Do not forget to synchronize the user with the devices in the main user screen.


After synchronizing the user you will find two new icons under the mobile key section.
Click 'Status' to retrieve the status for the mobile keys. You can see exactly where this user has access, which locks, what times and what dates.
Click 'Delete' to delete the mobile card.
The user is now ready to use the mobile card. After downloading the DOM Key app he/she can login using their mobile phone number. The different doors they can open are now directly visible on the screen.

The DOM Key app does not work in the background. You need open the door app and click 'Open Door' next to the door name when you are close to the lock.

Do you have any questions about the issueing and using DOM Mobile keys? Please contact our support desk and we will be happy to assist.
You can reach us by phone or email. You can also directly chat or create a ticket within your EasySecure software environment or our helpcenter.